健康住宅体系
Healthy housing system
是ACE DESIGN 多年来研发和践行的设计理论系统。
从可进化的自然万象中,展演人与家庭、物件、艺术、生活的互动尺度,是ACE DESIGN 的独特坚持。
其作品兼顾国际化、安全感与趣味度,超越物质而转换为时间维度的持续体验,回归至居住的本质内涵 —— 健康、优雅、温暖。
The "Healthy Housing System" is a theoretical design approach developed and practiced by ACE DESIGN over the years, which insists on the unique interaction between people and families, objects, art and life from the evolvable nature.
Its work balances internationalization, security and fun, and transcends materiality into a continuous experience in time,
returning to the essence of living - health, elegance and warmth.

健康住宅是指能满足居住者不止于物理空间层面的健康需求,是一种涵容心理、生理等多层次的居住环境。
当居住空间、环境空间和精神空间完美结合时,那么居住者的身心将处于一个健康的状态。
这个状态是对室内设计师最高层次的要求,也是ACE一直在研究与践行的方向。
Healthy housing refers to a living environment that can meet the health needs of residents not only in physical space, but also in psychology and physiology.
The residents will have a physically and mentally healthy status once the space of living, environment and spirit perfectly integrates.

This status is the highest-level requirement for interior designers, and also the direction we have been researching and practicing.
透过整体环境的自然互通,模糊室内外界限,有效解放空间关系,实现透气、通风、采光、湿度的守恒,于无限自然中适当留白,拥抱自然的纯粹与本真。
Through the natural intercommunication of the surroundings, we blur the boundary between indoor and outdoor, effectively liberate the spatial connections to achieve the balance of ventilation, light and humidity, leaving white space in nature and embracing purity and authenticity.
不做过度的设计,以克制的手法,在理性的视角下实现功能与美学的取舍,放大视、听、嗅、味、触等五感体验,升华生活方式的哲学。
We reject excessive design and use a restrained approach to make rational trade-offs between function and aesthetics, amplify sensory experiences such as sight and sound, and sublimate the philosophy of lifestyle.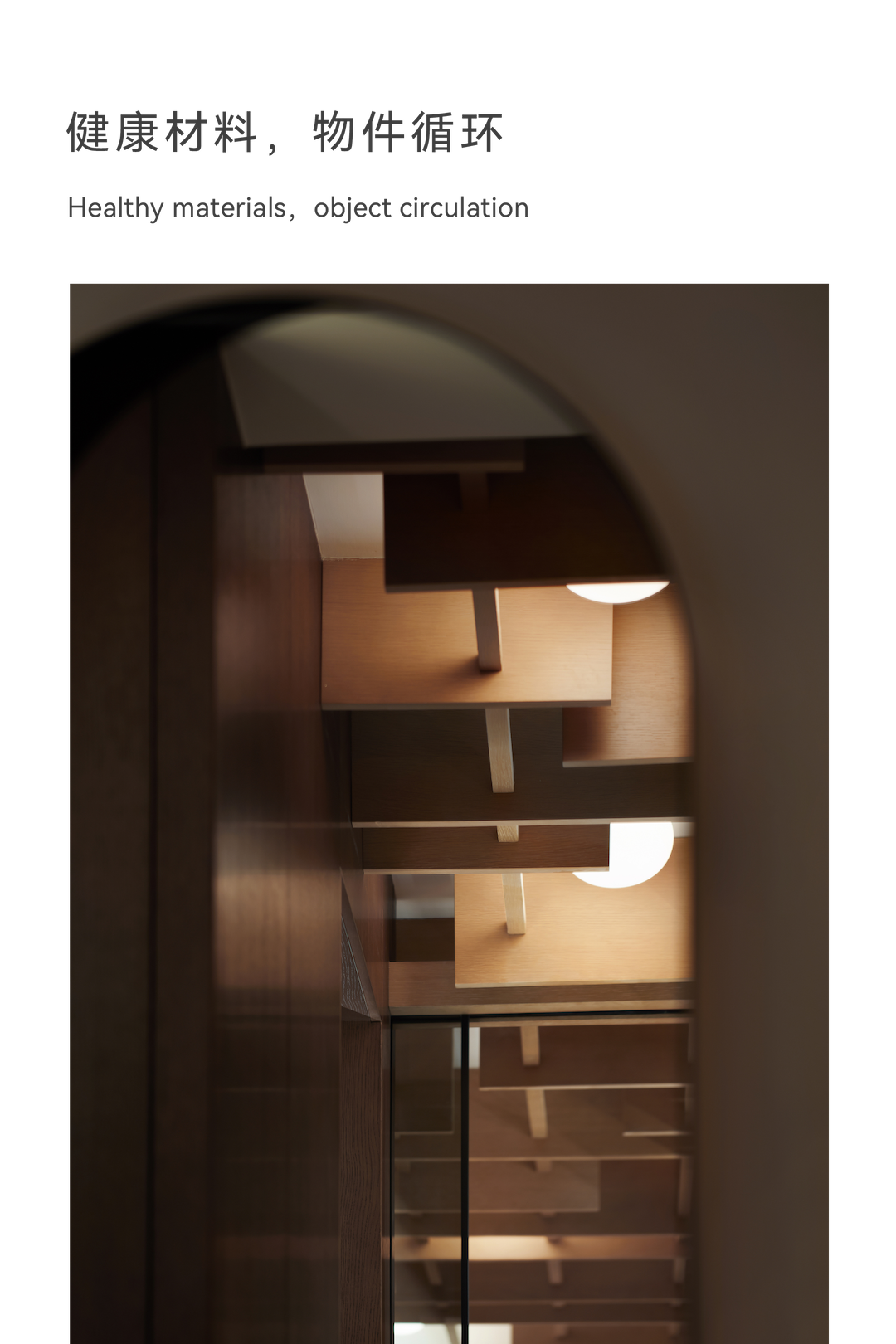 在空间用材上,不滥用材料,不铺张浪费,基于客户需求而精选,自然健康。与此同时,挖掘客户家中的各类老物件,以新的形式承载情感记忆,融入空间的可持续循环之中。
The materials used in the space are not abused, but selected based on the needs of our clients, which are natural and healthy. At the same time, we explore various aged objects in clients' homes to inherit emotional memories in new forms and integrate them into the sustainable cycling.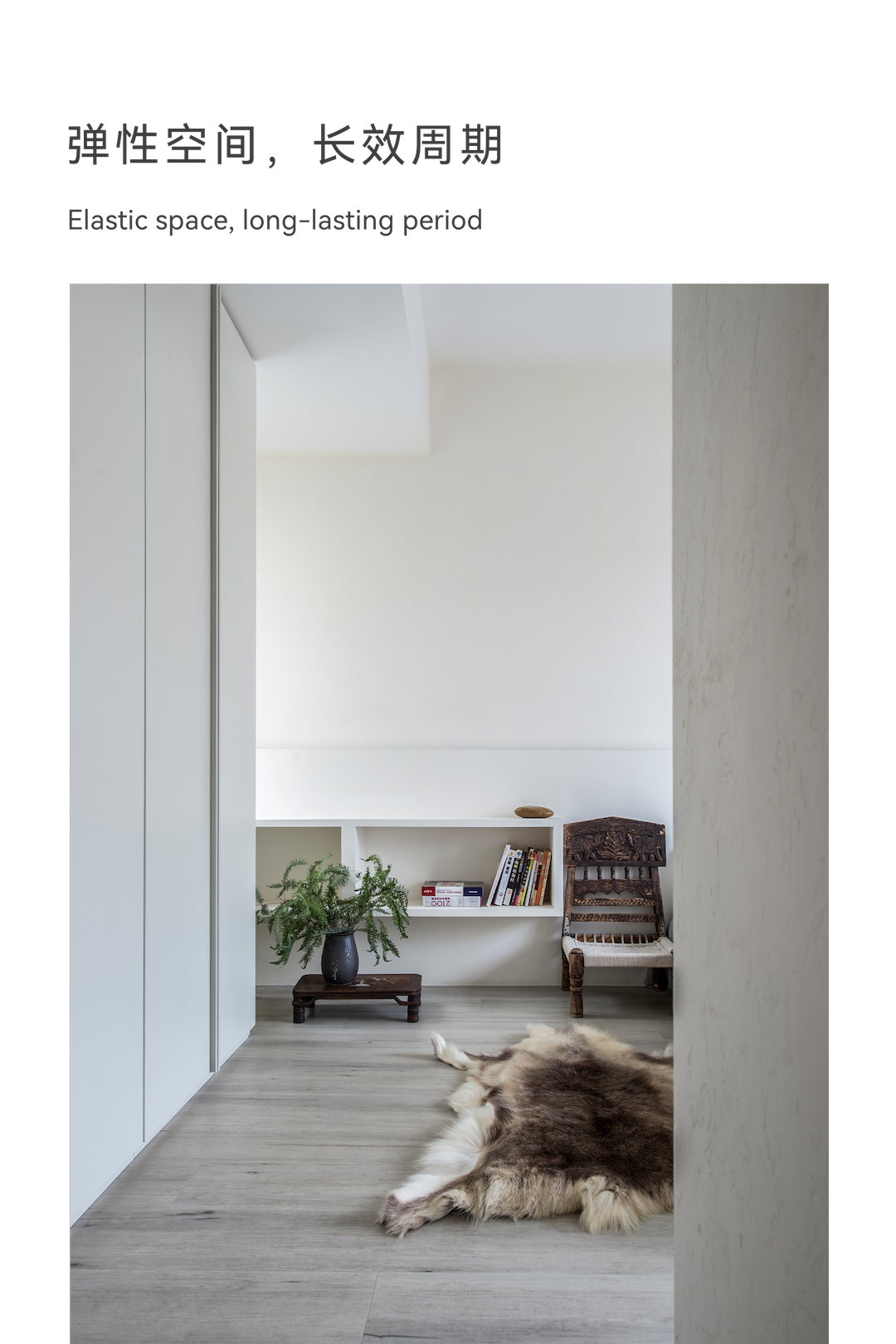 在洞察客户的基础上,进行功能分层与场景化预设,明确规划动静区域,有效利用弹性空间,既满足当下的使用,亦具有适应未来变化的灵活性,让家庭互动更融洽。
Based on the insight of our customers, we pre-define the functional stratification and scenarios, and explicitly plan the dynamic and static areas to utilize the flexible space effectively, which not only meets the current use, but also has the flexibility to adapt to future changes, so that family interaction can be more harmonious.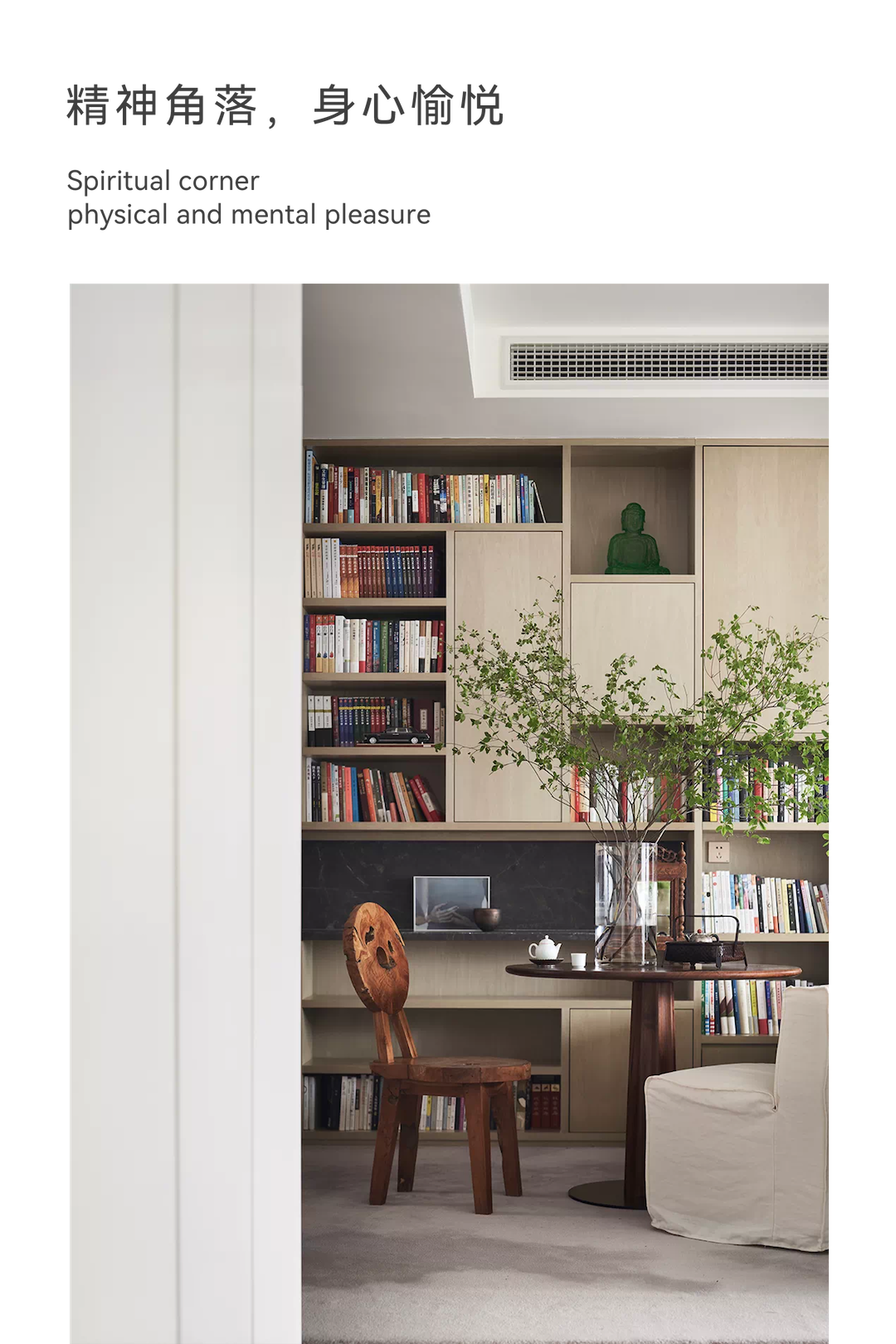 设计关注居者内心对空间的认知与感受,在不同场景的交互中,让房子和主人建立深刻的情感联系,成为安放精神的角落,予人由内而外的归属感,温暖、舒服、自在、愉悦。
Our design focuses on the perception of the space by the residents, in the interaction of different scenes, the house and the owner establish a deep emotional connection and become a corner for the spirit to rest, and the sense of belonging from the inside out makes people feel warm, comfortable and enjoyable.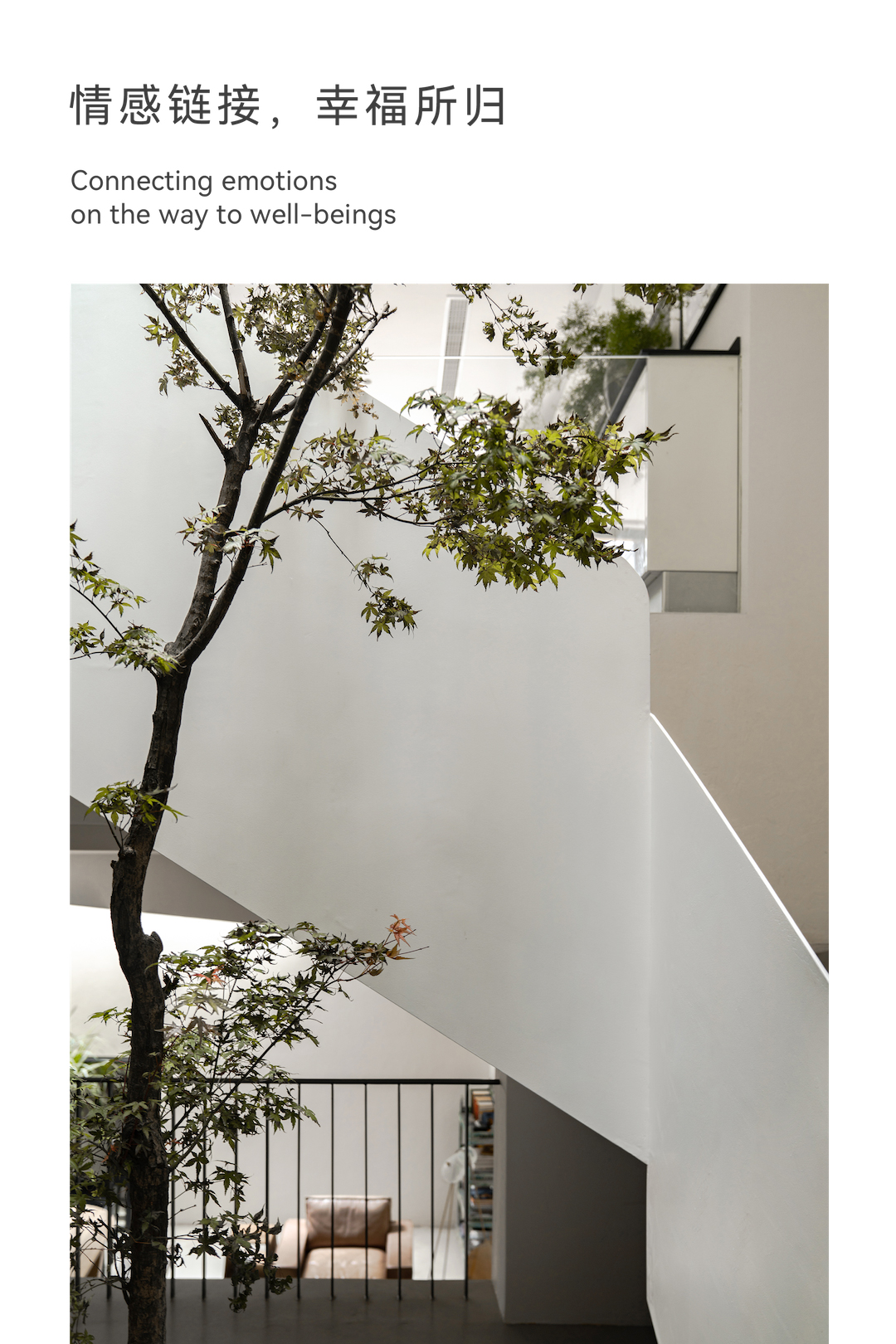 健康住宅不只是有形的空间场景,更蕴含着无数关系的链接与延伸,虽无形却有情。富有情感的住宅就像艺术诗一样,在看似平凡的日常中,串联起家人之间关怀的意识、互动的深度、恒久的陪伴,予人精神层面的全力支撑,触动心灵深处的柔软。
We think healthy housing is not only a visible spatial place, but also an invisible vehicle to connect people's relations and full of affections. Just like the poem of arts, an emotional housing allows family to care about, deeply interact and permanently accompany with each other in the ordinary daily life.And it can fully support people in spirit and touch the softness of the heart.
作为「ACE健康住宅体系」的研发与实践者,我们不仅坚持以该体系服务客户,创始人谢辉女士在多个公开场合分享「ACE健康住宅体系」的核心要义,希望有机会真正改善当代居住环境。
As the developer and practitioner of "ACE Healthy Living System", the founder, Ms. Alyssa Xie, has shared the core essence on several public occasions, "We not only insist on serving our customers with this system, but also hope to have a genuine opportunity to improve the contemporary living."